Sunlive – Full throttle at Baypark Speedway
Baypark Speedway completed a fast-paced race programme and its massive fireworks display before evening rain could disrupt the action on Saturday night.
Under threatening skies at Mount Maunganui, the dirt track racing ran at full-throttle with five classes battling for honours.
There was plenty of attention on the Sprint Car division in the early part of the 2020-21 season ahead of the New Zealand Championship set for January 8-9.
Auckland racer Daniel Rogers won the 20-lap feature race showing the same pace that powered him to the NZ Grand Prix title at Baypark last season.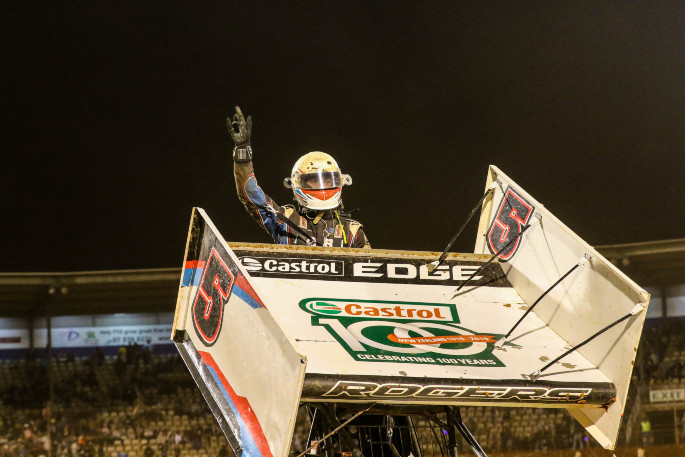 Auckland racer Daniel Rogers celebrates his victory in last night's Sprint Car feature race. Photo: Zach Rayner/Pitbull Photography
Daniel chased down former New Zealand champion Rodney Wood and seized an opportunity in the lapped traffic to make the winning move. Tokoroa's Keaton Dahm, Hamilton racer Dean Brindle and Te Awamutu's Brian Edwards completed the top-five.
While Rodney lost his chance in the lapped traffic his son Cole got his timing to perfection and picked off the lapped cars to stay ahead of Luke McClymont and Boyd Westbury and win the 15-lap Six Shooter main event.
The debut appearance of the Super Stocks for the season provided plenty of bumper-to-bumper action with Tauranga drivers Dan Pollock, Aidan Eustace and Kerry Remnant powering to wins in the three-race format.
The super saloon feature race saw Dan Corrin (Tauranga) make an early move to the front but as the race settled down Scott Hayward (Tauranga) had the strongest pace and grabbed the lead on the fifth lap. Matt Smith (Thames) emerged as Scott's closest rival in the final laps but Scott stayed in front after the final restart with three laps to go.
The third night of the 2020-21 season will be raced on Saturday November 21 featuring the opening round of a new Super Saloon Car series.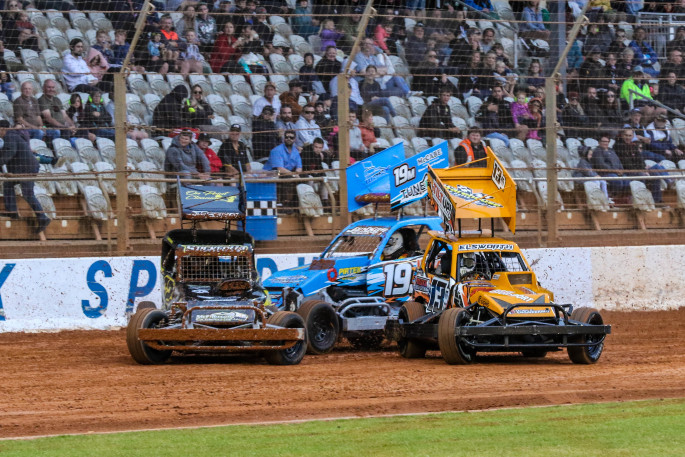 The rumbling Super Stocks provided plenty of entertainment on their first appearance of the season. Photo: Zach Rayner/Pitbull Photography