Speedway farewells Skinny Colson in style
The "Salute to Skinny" BOP Sprint Car Championship was held on Saturday night. Supplied photos.
Baypark Speedway continues to power through its traditional late-season titles – uncontested last year due to Covid-19.
California's Jonathan Allard was the big winner on Saturday night, cashing in with a $6600 victory in the "Salute to Skinny" BOP Sprint Car Championship, as he led home Rodney Wood (Tauranga) in a fast-paced 20-lapper.
Wellington hard charger Stephen Taylor had been the leader for the opening 12 laps, showing impressive speed and with an oil overflow onto his exhaust headers lighting his progress with flashes of flame.
And it would be fire that would be Taylor's undoing – but not on his own car.
Fourth placed Greg Pickerill (Hamilton) slowed to a halt in turn four with flames from a fuel fire licking around his feet and Taylor was unable to avoid the stationary car.
A glancing contact was enough to end Taylor's race with damaged rear suspension while Pickerill sustained burns to his toes.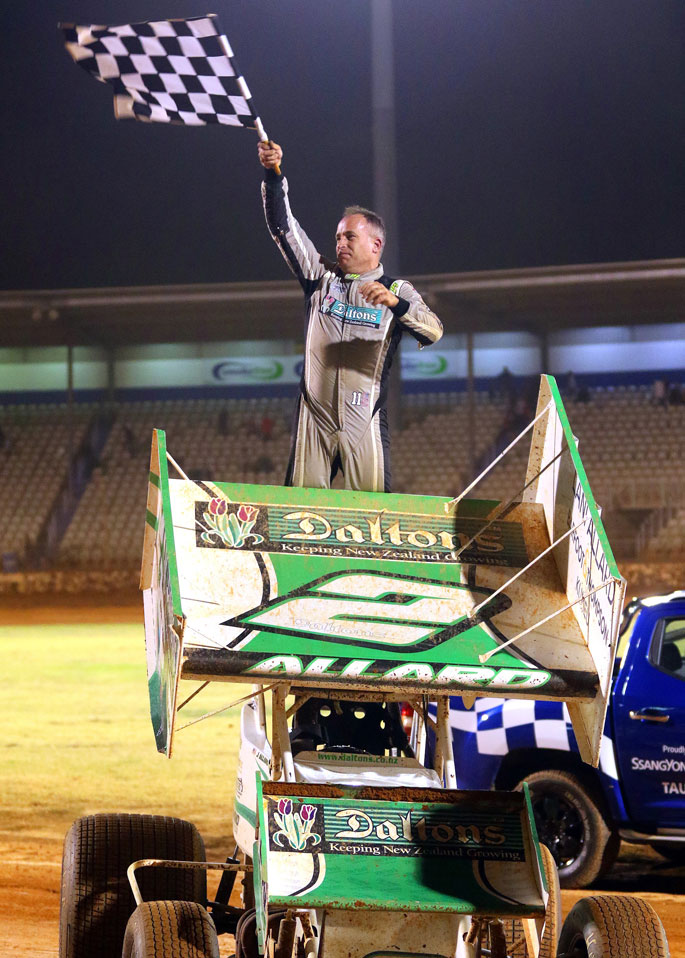 Having achieved a string a podium finishes at major this summer events, the BOP Champs is the first title win for Allard who remained in New Zealand with his family last year and didn't race in the US.
"We've had a really good race car for quite a while now and I'm finally getting back up to speed and doing the car justice," says Allard.
"It feels good. I'd like to thank Daltons and all the team who have kept believing in me when the chips were down."
It became a hectic farewell appearance at Baypark for Graeme "Skinny" Colson, which included a fuel system fire after the opening heat race and colliding with a lapped car while leading the second heat.
After an emotional farewell presentation, Colson's perseverance was rewarded with a third placing in the 20-lap Championship finale.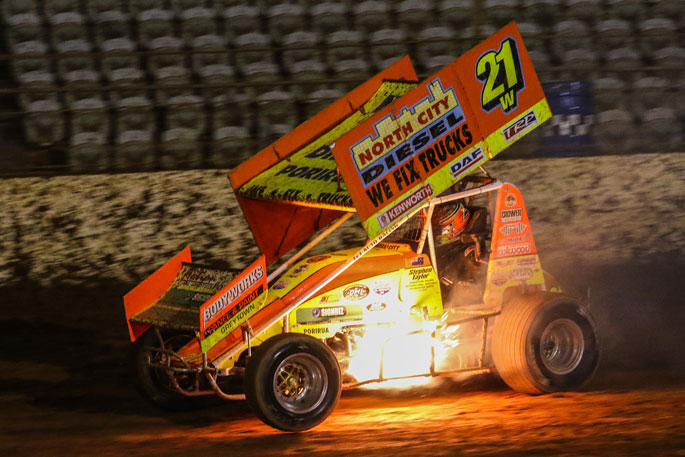 Stock cars fought out the annual Fredrickson Family Gold Cup with Joseph Carter getting some assistance from his team-mates to take the win ahead of a fast-closing Johnny Morley and Lee Porter.
The feature race for Six Shooters was given added spice with the fastest heat race performers gridding up at the back of the field.
It was the fast-starting Luke McClymont who put in a charging first lap with multiple outside passes to comfortably gap his main rivals Boyd Westbury and Cole Wood.
Along with a fireworks spectacular, the final meeting of the 2020-21 season on Easter Saturday, April 3, will feature the BOP Championships for Midget Cars, Saloons, Stock Cars, Six Shooters and Youth Mini Stocks.